Easter
Easter activities, art projects, drawing lessons, games and more!
Here are some Easter  pictures that you may download and print for free!  Mimi's gift to you!
Parent Category: Holiday Fun
Mimi would like to give you some free bunny patterns that you may use to make your own bunnies!
Click on the example picture for the printable pattern.
| | | |
| --- | --- | --- |
| | | |
| Single Standing Bunny Pattern | Bunny Face Pattern | Assorted Patterns |
Examples of how you can use the patterns: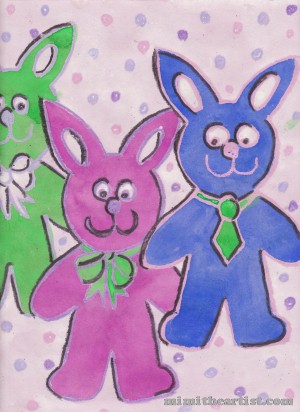 Trace the bunny several times, overlapping and even have the tracing go "off" the paper! In this example light colored crayon was used to trace.  After tracing go over the lines a second time so the lines will be thick. Use watercolors or poster paint to fill in the shapes.  Once everything was dry, a black crayon was used on some of the left sides of the lighter colored lines to add a sense of shadow and depth.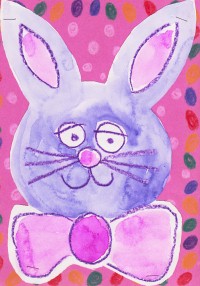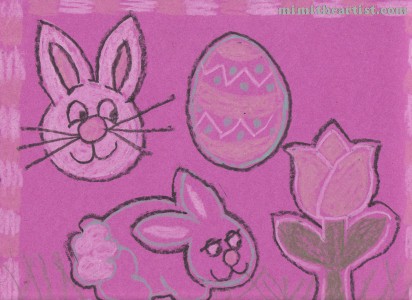 Save
Save
Save
Save
Save
Parent Category: Holiday Fun
Save
Save
Save
Save
Save
Save
Save
Save
Save
Save
Save
Save
Save
Parent Category: Holiday Fun
Using Mimi's bunny patterns:
Trace the pattern onto paper (it can be white paper or colored construction paper)
Cut out your tracing
Use crayons to draw the eyes, nose, whiskers and the oval shape inside the bunny's ears.  Color in the bow that is underneath the bunny's chin.
Make sure that the lines are thick (press carefully!)
Using watercolors, paint over the entire bunny face.  The crayons are made of wax so the paint will not stick to it which lets your lines show through the paint!
The other patterns may be used the same way!
Save
Save
Save
Save
Parent Category: Holiday Fun